Salmond steps up pressure on Miliband saying he won't be able to avoid a deal with the SNP - and was...
Alex Salmond, who is bidding to return to Westminster, said the Labour leader would find it difficult to avoid doing a deal with the Scottish nationalists in the event of hung parliament.
Israel to release Palestinians' tax revenues
Israel has agreed to release hundreds of millions of dollars in tax revenues and customs duties that it had withheld from the Palestinians for months, officials on both sides said Saturday. The agreement could ease a quarrel that began at the start of...
Iraq PM's spokesman resigns over pro-Saddam song
Iraqi Prime Minister Haider al-Abadi's spokesman Rafid Jaboori has resigned over a video showing him singing the praises of dictator Saddam Hussein more than...
Teen Convicted Of Random Killing Of Jogger
A 17-year-old has been convicted of shooting dead an Australian college baseball player in a seemingly random attack.
Marylebone Cricket Club Unveils Second Phase of Lord's Redevelopment Plan
The project, which is the biggest planned phase of the Masterplan for Lord's, includes a replacement for the Tavern and Allen Stands, a new Thomas Lord Building, a new Tavern pub, and internal reorganisation of the Pavilion to provide more room for cricket teams and staff.

Texas set to approve open carry of handguns, seen as win for gun-rights activists
Texas is poised to become the largest state in the U.S. to allow citizens to openly carry handguns, a change long sought by gun-rights activists.
Obama says 'no greater threat to planet than climate change'
Washington (AFP) - US President Barack Obama said Saturday that climate change poses the world's biggest single threat."Today, there's no greater threat to our planet than climate change," Obama said in his weekly address, which had an environmental theme to mark Earth Day on April 22."Climate chang
George Lucas asked Stephen Colbert why he wouldn't want to host 'The Daily Show' and his response wa...
Stephen Colbert has a simple reason why he wouldn't want to replace Jon Stewart on "The Daily Show": he wouldn't have a good time. During a Tribeca Film Festival panel between Colbert and George Lucas Friday, Lucas turned the tables on the former "The Colbert Report" host (who is currently sporting
Scottish prosecutors allege Pacteau strangled Karen
Tragic Karen Buckley was attacked with a spanner and strangled by the man accused of murdering her, prosecutors claim.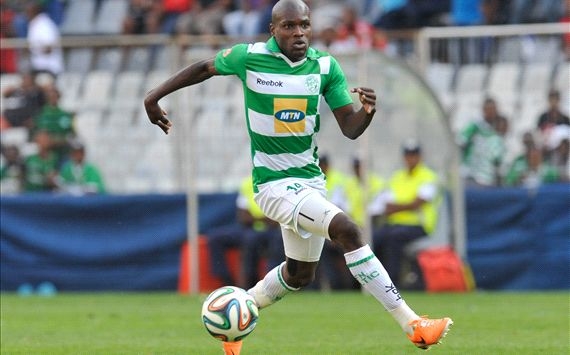 Bloem Celtic's Lamola faces race against time to be fit for Maritzburg United clash
Lamola confirms to Goal that he is uncertain whether he will be fit to face Steve Komphela's side on Sunday afternoon, having picked up a knock against Sundowns on Wednesday night
Australia FM hails Iran effort to defeat IS
Australia's foreign minister on Saturday hailed Iran's efforts to crush the jihadist Islamic State group in Iraq, saying on a rare trip to Tehran that the militants can be defeated. Julie Bishop is Australia's highest-ranking official to visit Iran in 12 years and she discussed the co
Trust building for Adelaide, says Lynch
ADELAIDE is staring at its best start to an AFL season in almost 20 years - but Tom Lynch is more excited about the trust and confidence building at the club.
I blame our politicians for putting our safety at risk
ANDREW BOLT ON THE ANZAC TERROR PLOT RAIDS: I ACCUSE Australia's political class of a crime. Of wilfully ­endangering the safety of ­Australians.
​88% of All Abuse on Social Media Happens on Twitter, Study Shows
It seems that, despite their constant attempts to put an end to the abuse taking place on the website, Twitter still has the leading position when it comes to the inability of tackling Internet trolls. A new study shows that almost 88 percent of the online abuse takes place on Twitter, and th
The top ten UK swimming spots to keep cool as the mercury rises
If you are looking to celebrate this wonderfully balmy weather by taking a dip, there are lots of places to try. From Aberdeen to London and Plymouth to Yorkshire, we take a look at some of the best.
'Best Fixed Mortgage In History' Goes On Offer
Increased competition between lenders and ultra-low base rates from the Bank of England has allowed one company to offer a five-year mortgage with a fixed interest rate of just 1.99%.
Jamie Carragher says John Terry's vote for Coutinho as PFA Player of the Year was purely tactical - ...
The Liverpool legend reckons JT voted for Brazilian star Coutinho because he didn't want to vote for one of Eden Hazard's "biggest challengers"
Five arrested in Australia on suspicion of terrorism
Five Australian teenagers were arrested on suspicion of plotting a terrorist attack at a Veterans' Day ceremony that included targeting police officers.The suspects included two 18-year-olds who are alleged to have been preparing an attack at the ANZAC Day ceremony in Melbourne, Australian police ac
Teacher 'marks' UKIP election leaflet
A UKIP campaign leaflet went viral for the wrong reasons when it was given the red pen treatment by an English teacher who spotted more than a dozen errors.
Teenager stabbed to death in street
A murder investigation is under way in Birmingham after a teenager was stabbed to death in the street.
Family focus for Miliband in Wales
Labour leader Ed Miliband pays his first general election campaign visit to Wales and highlights his party's "better plan for working families".
Missing person scheme to be launched
Charity Missing People says it will launch a service in Wales to help missing people and their families after they are re-united.
Lake mum's sobbing farewell to three kids
THE mother of three young children who drowned in a lake in a car she was driving has broken down as friends and family remembered them.
Damien Leith breaks into cabaret
IRISH singer Damien Leith, known for heartfelt ballads about his homeland, is branching out with a new cabaret play, The Parting Glass: An Irish Journey.
IPL 8: Mumbai Indians Seek Fresh Start, Take on Royal Challengers Bangalore
Mumbai Indians is the only team, which has not opened its account on the points table after back-to-back defeats to defending champions Kolkata Knight Riders, Kings XI Punjab, Rajasthan Royals and Chennai Super Kings.
NSW Waratahs upset Hurricanes
The NSW Waratahs have scored a four-try bonus-point win over the previously unbeaten Hurricanes to reveive their Super Rugby title hopes.
Coachella 2015: Allah-Las, Angus & Julia Stone provide chill tunes at Outdoor Theatre
INDIO >> Los Angeles band Allah-Las helped bring free and easy vibes to the first day of Coachella Valley Music & Arts Festival's second weekend.Performing at the Outdoor Theatre, the 40-minute set featured a mixture of garage and '60s surf music sound.The quartet is made up of Matthew Correia (perc
Class 9 student killed as police open fire on crowd protesting Masarat Alams arrest in JK
A Class 9 student was killed on Saturday after security forces opened fire at protesters in Jammu and Kashmirs Narbal after top separatist leader Masarat Alams arrest for allegedly hoisting a Pakistan flag at a Srinagar rallynbsp
Behind the scenes at KFC: Daily Mail Australia goes inside the kitchen of the fast food giant to fin...
Daily Mail Australia attended a behind the scenes tour of the KFC store outside Sydney's Airport in Mascot, alongside four couples who had registered as skeptics and fans.
Australia Arrests Teens Over IS 'Terror Plot'
Five teenagers have been arrested in Australia over what police have described as an Islamic State-inspired terror plot.
Australia police hold 5 in anti-terror action
Five young men were arrested Saturday in Melbourne, Australia, in what police called a major counterterrorism operation.
GOP presidential hopefuls descend on N.H.
Republican presidential hopefuls descended on New Hampshire Friday for the Republican Leadership Summit, a two-day event that has drawn about 500 GOP activists and the party's entire 2016 field to Nashua.
Montgomery County may drain popular Takoma Park pool, lack of funding to blame
TAKOMA PARK, Md. (WJLA) - A vibrant public swimming pool is facing a very dry future amid Montgomery County budget concerns. The Piney Branch Pool, located inside of Piney Branch School, has been a safe and affordable community-gathering place for decades. However, Montgomery County Executive Ike L
FIRST PIC: Terror accused fronts court
LATEST: A TEEN charged over an alleged Anzac Day terror plot targeting police and the public can be revealed amid anti-terror raids across Melbourne today.
Star Wars Battlefront Sets Up Episode 7's Story
If you're a Star Wars fan, you already know about the upcoming film and the new game from EA and DICE, but one thing you may not know is that Star Wars: Battlefront actually has narrative ties to Star Wars: The Force Awakens.
Many dead in Afghanistan blast
At least 22 people are killed and 50 injured in an explosion in the eastern Afghan city of Jalalabad, officials say.
Persistence pays for Knights
The dream of returning to the AFL playing field has been the motivating factor for Tiger Chris Knights, during nearly two years out of the game through injury.
Terror arrests in Australia over planned Anzac Day attack
Two men were arrested in Australia on Saturday for allegedly planning an Islamic State-inspired terrorist attack using "edged knives" on a ceremony commemorating Anzac soldiers who have fought and died for their country. Seven search warrants were executed in Melbourne by a joint counter-t
Man stabbed to death in far north 'ghetto'
A MAN has been brutally stabbed to death in the state's far north at an apartment block that many neighbours describe as a "ghetto".
Australia arrests 5 men on charges of plotting terror attack on police
Police in Australia say they have arrested five men on suspicion of plotting terrorist attacks on police officers.
Will Huckabee run in 2016? Former governor and ex-Fox News host won't say until May 5
Former Arkansas governor Mike Huckabee says he will tell supporters on May 5 in the hometown he shares with former President Bill Clinton whether or not he will seek the Republican presidential nomination
Race motive seen in delay to vote in Loretta Lynch as US attorney-general
African-American and other civil rights leaders infuriated over the stalled confirmation vote on Loretta Lynch, the first black woman to be nominated for attorney general, are casting the delay as an issue with racial overtones.
Dr Oz Should Go, Say 10 Physicians in Letter to Columbia
The physicians criticized the Columbia University faculty member for, among other things, his "baseless" opposition to genetically modified foods and his promotion of "quack treatments." Medscape Medical News
WikiLeaks Sony Document Hints At Upcoming New Cameras
It is only logical to think that Sony has new cameras they are planning on announcing this year, although exactly what model and when the announcements will take place remains to be seen. However thanks to the database of Sony documents on WikiLeaks (via Sony Alpha Rumors), it seems that a few model
Microsoft Responds To Bricked Windows 10 Lumia 520 Handsets
Owners of the Lumia 520 and its siblings, the Lumia 521, Lumia 525, and the Lumia 526, are reporting that their phones have bricked after installing the latest Windows Technical Preview for phones. So what's the deal? Was there a bug with the technical preview? Or do these phones not have the capabi
Should Cuba be removed from list of terrorism sponsors? RedBlue America
President Obama said he intends to remove Cuba from the U.S. government's list of nations that sponsor terrorism, a major step toward restoring relations between the countries. The endorsement came days after Obama shook Raul Castro's hand at an international summit. Is Obama right? Or is he treatin
Duncan teenager is guilty of first-degree murder in Australian's fatal shooting
BY NOLAN CLAY, Staff WriterDUNCAN — In a quick verdict, a jury Friday decided a Duncan teenager intentionally killed an Australian baseball player out for a jog on a summer afternoon in 2013. The jury found Chancey Allen Luna, 17, guilty of first-degree murder, rejecting his defense attorney's cl
Video: Cardinal Turcotte remembered as 'inspiration' at funeral
Dignitaries were among those who remembered Cardinal Jean-Claude Turcotte at a Montreal funeral Friday. Mayor Denis Coderre says Turcotte's humanitarian efforts made him "an inspiration."
DAILY MAIL COMMENT: How Tories can stop Red Ed and the SNP 
DAILY MAIL COMMENT: The independent Office for National Statistics delivered some truly stunning figures yesterday on the state of Britain's resurgent economy.
Orange Is The New Black star Kate Mulgrew reveals how she was raped at knife point... and forgive h...
It is every woman's worst nightmare. In 1982, Kate Mulgrave was a young woman working towards stardom when she was attacked in her own home
Second vigil for karen buckley
A second vigil will be held today to remember student Karen Buckley. A major police search was launched when the 24-year-old vanished after a night out in Gl...
Lenders fight to cut mortgage rates
The battle between lenders to chop down the mortgage rates on offer has intensified, with a company unveiling a new five-year deal with a record low rate of ...
Obesity comes in different types
Scientists have identified six types of obese people. A study suggested people with a body mass index (BMI) of 30 or more fall into six categories: heavy dri...
PLATELL'S PEOPLE: Why we women can't stand Sturgeon
The sight of Nicola Sturgeon taking centre stage and giving Ed Miliband and David Cameron a good hand-bagging ought to be cause for celebration.