Homes raided under cover of darkness
WITH automatic weapons raised, heavily armed tactical police in black paramilitary uniforms smashed their way into the Eumemmerring home, moments after 3am.
Gas attack a century ago spread horror on Flanders Fields
On Tuesday, the 2013 Nobel Peace Prize-winning Organization for the Prohibition of Chemical Weapons will hold a commemorative meeting close to the fields. The organization today monitors reports that chlorine gas has repeatedly been used in Syria's civil war.
A former Perogy Boy talks about life at the Beltliner
Calgary Eyeopener food guide Julie Van Rosendaal talks to chef Shawn Greenwood about trading the crazy life on the oil rigs for the crazy life in the kitchen in this edition of Food and the City.
Forget the chest beating, the Anzacs are still worth celebrating
The original Anzacs were flawed and at-times scared men, but when called upon they did themselves and Australia proud.
Cask wine under fire as government ponders tax hike
The price of cask wine could double within 18 months, with major drinks companies and health experts lobbying the Abbott government to revamp a tax system that unduly favours bulk wine sales.
Triumph for Olympiakos at Barcelona
Olympiakos produced its best away performance so far this season to defeat host Barcelona 76-63 on Friday and snatch the home advantage in the Euroleague play-offs.
Solar powered electric vehicle charging stations launch in SF
Electric vehicle owners in San Francisco now have a new option to charge their rides thanks to some good old solar power. Making it even better than charging from your home power outlet is that it's completely free. Thanks to company Envision Solar, three Electric Vehicle Autonomous Renewable Charge
Alcatel OneTouch Idol 3 Now Up for Pre-Order for Just $200
Alcatel OneTouch Idol 3 is a mid- to high-range Android smartphone unveiled back in February at Mobile World Congress (MWC) 2015. Earlier this month Alcatel confirmed the OneTouch Idol 3 will be available for pre-order beginning April 21 for only $280. Although the suggested retail price is g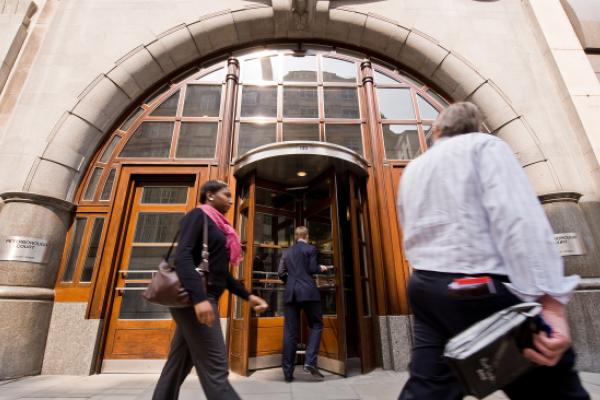 Battle Of The Investment Banks: Goldman Sachs Vs. Deutsche Bank
Latest Ratings for GS DateFirmActionFromTo Apr 2015Keefe Bruyette & WoodsDowngradesOutperformMarket Perform Apr 2015BarclaysMaintainsEqual-weight Apr 2015SusquehannaMaintainsNeutral View More Analyst Ratings for GS View the Latest Analyst Ratings
Stormers cling on against Western Force in Perth
The Stormers held on to record a hard-earned 13-6 win over the Western Force in Perth in their Super 15 clash on Saturday night. The defence of the Stormers ...
Renae Ayris takes a subtle swipe at stars who do reality TV shows for fame
Her friend Laura Dundovic took part on I'm A Celebrity... Get Me Out Of Here! Australia in February.
Married locum GP who fondled teenager's breasts in 'moment of madness' when she came to him with che...
Dr Unt Tun Maung, 43, has been sentenced to 18 months in jail for the attack, during which he asked the teen to remove her bra before cupping her breast at medical centre on Teesside, Middlesbrough.
Mayweather vs Pacquaio: Tickets for Las Vegas superfight STILL haven't gone on sale
With the bout just two weeks away punters are still yet to receive details of how to nab a seat for the May 2 bout at the MGM Grand
Jose Mourinho: Manchester United is NOT Chelsea's biggest game of the season
JOSE MOURINHO is adamant that Manchester United doesn't represent Chelsea's biggest game of the season.

Bill Maher Slams Congress For Being Out Of Touch On 'Real Time'
Congress is supposed to represent all Americans, but Bill Maher isn't convinced. On "Real Time with Bill Maher" Friday night, the host put the House of Representatives' recent vote to repeal the federal estate tax in the context of the fast-food workers' strike for $15-an-hour wages to suggest A
Hawks vs. Nets: A position-by-position breakdown
The Nets' mediocre season has earned Brooklyn a best-of-seven round date with the 60-win Atlanta Hawks.
Video: Life On Front Line For Briton Fighting IS
A British man who is fighting Islamic State in Syria has released two videos that show what life in like on the front line.
Xenophobic attacks spread in South Africa
South African police fired rubber bullets Friday to disperse crowds setting immigrant businesses ablaze as attacks against foreigners spread to Johannesburg. Chanting and singing, machete-armed residents burned down shops owned by foreigners, includin...
Tripoli parliament proposes Libya presidential council
The congress said the proposed presidential council would be tasked with tackling political and state issues.
Impacts of Gulf oil spill on marine organisms on Gulf coast
Researchers have determined the impacts of the Deepwater Horizon oil spill on marine organisms such as oysters, conch, shrimp, corals as well as marine plankton (microalgae or phytoplankton, rotifers or zooplankton), which provide the basis of coastal and oceanic food webs.
Liverpool double murder: Police appeal to find missing son of woman murdered in brutal killings
Detectives have warned the public not to approach Peter Fox after his mum Bernadette was murdered yesterday along with her daughter Sarah Fox

US Navy Pursues High-Tech Submarine Upgrades
Navy leaders say the service is developing new technologies to ensure the U.S. retains its technological edge in the undersea domain.
70 people were injured while filming this movie with 100 untamed lions
Warning: This video contains blood and gore.  Noel Marshall, Tippi Hedren and their family lived with 140 untrained animals, including 100 untamed lions in what is called "the most dangerous movie ever made". The idea for "Roar" was conceived after the couple toured several safari wildlife pres
Missing cat turns up 128 miles away
Missing 18-year-old cat George hitches a ride in a caravan in north Wales and ends up 128 miles away in Yorkshire.
Son sought after double family murder
Police investigating the murders of a mother and daughter in Merseyside urgently want to trace one of their relatives.
World's Most Powerful Passports
Not all passports are created equal, and those that provide the greatest freedom of movement throughout the world are deemed as being the most powerful.

Not all passports are created equal, and those that provide the greatest freedom of movement throughout the world are deemed as being t
Family fears for missing man
POLICE and the relatives of a man who went missing from a Gold Coast home yesterday are seeking information as to his whereabouts.
Security rethink over Anzac terror plot
QUEENSLAND police have reassessed security for the state's Anzac Day services following anti-terror raids in Melbourne. Interactive feature
Free-flowing Sky Blues must plug leaks
THEY are certainly the entertainers, but Sydney FC will have to improve defensively if they are to go deep into the A-League finals series, writes Robbie Slater.
Muscat loses his red card A-League record
KEVIN Muscat can now say he isn't the most sent off player in A-League history after Adelaide United were reduced to 10 men on Saturday night against Wanderers.
Silver Sands to go gold class
MILLIONAIRE Jan Cameron has been in talks with a Danish ­architect as she considers creating a unique East Coast tourism development.
5 teens accused of ISIS-inspired plan to attack police in Australia
Australian police have arrested five teenagers in Melbourne over an alleged plot to target police officers at a war memorial ceremony set for next weekend in the city.
After blackball incident, Mo'Nique insists 'I'm not difficult'
Mo'Nique is nothing if not candid. Already known for speaking her mind at all costs, the 47-year-old actress stirred up headlines in February when she dished to the Hollywood Reporter...
Sam Allardyce expects Manchester City to be a 'wounded animal' when West Ham travel to the Etihad St...
West Ham manager Sam Allardyce is not bothered by how Manchester City will react to their slump, only that his own players produce the goods at the Etihad Stadium on Sunday.
The Latest: Presidential contenders woo New Hampshire voters
9:15 a.m. (EDT) Kentucky Sen. Rand Paul is making it a family affair while campaigning in New Hampshire. Paul visited the D.W. Dinner in Merrimack on Saturda...
Shocking moment Taliban insurgents execute three prisoners accused of murdering couple during a robb...
WARNING: GRAPHIC CONTENT Blindfolded and handcuffed on a barren hilltop, this is the moment three Afghan prisoners waited for the death at the hands of merciless Taliban fighters.
Ambiga: Oversight of police needed now more than ever
Human rights lawyer calls for greater efforts to set up police complaints and misconduct commission.
Wolves 1-1 Ipswich: Stalemate at Molineux dampens Wanderers' play-off ambitions
Benik Afobe's 31st goal of the season brought the hosts level after Richard Stearman's first-half own goal put Mick McCarthy's side ahead
Harry-James Kirkham: Schoolboy who died after being hit by police car gives gift of life by donating...
Three people, including a former nurse, have undergone vital transplant operations thanks to Harry-James donating his organs
Crystal Palace v West Bromwich Albion
Preview followed by live coverage of Saturday's Premier League game between Crystal Palace and West Bromwich Albion.
Obama may be smiling today but the Congressional fight over an Iran deal is far from over
President Barack Obama may have dodged a worst-case scenario when it came to Congress's response to the Iran nuclear deal this week, but the fight is far from over. On April 14th, Obama announced that he wouldn't veto a bill, pushed by Senator Bob Corker (R-Tennessee) and passed unanimously in commi
Unbeaten Rajasthan, Chennai To Battle For Supremacy
Undefeated Rajasthan Royals and Chennai Super Kings will battle for supremacy at the Sardar Patel Stadium, Motera in Ahmedabad.
Former Taoiseach Cowen admits mistakes over bank guarantee
Former Taoiseach Brian Cowen has accepted that mistakes were made in the handling of the controversial bank guarantee of 2008.
Ipswich hold on for vital 1-1 draw against play-off rivals Wolves
Benik Afobe kept Wolves' fading promotion hopes alive as his 31st goal of the season salvaged a 1-1 draw against play-off rivals Ipswich at Molineux.
Ipswich hold Wolves to draw
Wolves failed to collect the victory they needed to rein in play-off rivals Ipswich in as their clash at Molineux ended 1-1.
Writer quits twitter after abuse
A Guardian food writer, blogger and campaigner has apparently quit Twitter after being bombarded with homophobic abuse by someone claiming to be from Ukip. J...
Wolves 1-1 Ipswich: Benik Afobe rescues valuable play-off point to deny Mick McCarthy's men at Molin...
Ipswich were denied a crucial three points at Wolves in the race for the Championships play-offs after the spoils were shared. Benik Afobe cancelled out Richard Stearman's own goal.
IS claims deadly US consulate blast in Iraq
The Islamic State group claimed Saturday a bombing near the US consulate in Iraq's autonomous Kurdish region a day earlier that killed two Turks. "Security d...
Disgraced ESPN reporter abandoned her car in Chinese restaurant parking lot after happy hour (despit...
According to an employee of the restaurant Hunan Number One, McHenry, 28, abandoned her car in the privately-owned parking lot, before leaving the popular happy hour spot on Easter Sunday.
Bloodied and left to die: Latest victim of anti-immigrant violence carried out by black locals crawl...
A bloodied shop owner (pictured) who is believed to be from Mozambique is the latest person to die as anti-immigrant rioters armed with machetes and hammers target foreigners in South Africa
Watch the amazing moment over 1000 huge spider crabs climb on top of each other to create a deep sea...
The incredible pre-migration of a colony of over 1000 spider crabs has been caught on camera by an underwater photographer in South Victoria.
Leicester City vs Swansea City team news: Andrej Kramaric returns as Foxes stick with 3-4-3 formatio...
Leicester City manager Nigel Pearson has returned to the 3-4-3 formation which paid off so handsomely during the 3-2 comeback victory over West Brom last weekend.
Chelsea vs Manchester United live: Premier League latest scores and updates, plus Crystal Palace vs ...
Latest news and talking points:Premier League leaders Chelsea host Manchester United in the big game of the day at 5.30pm.Four games kick-off at 3pm to get Saturday's action underway.Tony Pulis returns to Selhurst Park as Crystal Palace host West Brom.Everton look to break past the 40-point barrier
Retired Marine Charged With Murdering Girlfriend Yvonne Baldelli, Dumping Remains
By Marty Graham SAN DIEGO, April 17 (Reuters) - A former U.S. Marine was charged on Friday with murdering a woman who went missing in 2011 after traveling with him to Panama and whose dismembered remains were found in the remote jungle two years later. Brian